Rectangular Digital Gauge Kits - Diesel
Rectangular Digital Gauge Kits - Diesel
Maximize the performance of your diesel engine with our advanced Rectangular EGT Pyrometer Gauge kit. Designed for extreme durability and accuracy, the kit includes a high-quality rectangular digital pyrometer gauge with a large, easy-to-read digital display, a USA-made precision EGT probe, and all the necessary fittings and mounting hardware. Monitor your engine's exhaust gas temperature in real-time and make adjustments to improve efficiency, safety and power. Perfect for heavy-duty diesel engines in trucking, marine, and industrial applications. In-stock now and ready for fast delivery. Order now and take control of your engine's performance!
Need help making a selection? Use our EGT Probe Comparison Chart. For additional pricing and technical questions, contact us now to speak to an experienced application engineer.
Showing 1 - 2 of 2 results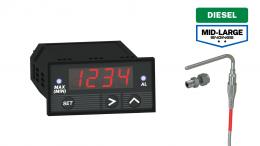 For Commercial Diesel Engines!
Kit Includes:
• Foul Proof Diesel Commercial Industrial EGT Probe
• Digital Pyrometer Gauge
• Adjustable Compression Fitting
(Recommended for fuel types: Diesel & Biodiesel)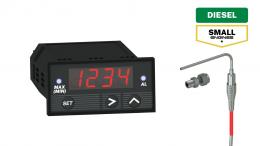 For Diesel Motorsports Applications!
Kit Includes:
• Fast Response Foul Proof Diesel EGT Probe
• Digital Pyrometer Gauge
• Adjustable Compression Fitting
(Recommended for fuel types: Diesel & Biodiesel)