Rectangular Digital Gauge Kits - Gas
Rectangular Digital Gauge Kits - Gas

Get real-time monitoring of your engine's exhaust gas temperature with our professional grade Rectangular EGT (Exhaust Gas Temperature) Pyrometer Gauge kit for gas engines. This kit is designed to give you accurate and reliable readings, so you can make adjustments and fine-tune your engine for optimal performance. The kit includes a high-quality rectangular digital pyrometer gauge with a large, easy-to-read digital display, a USA-made precision EGT probe, and all the necessary fittings and mounting hardware. The pyrometer gauge features advanced temperature measurement technology, with a wide measurement range and high accuracy. The EGT probe is made with high-quality materials, ensuring accuracy and durability. It is also easy to install with the included fittings and mounting hardware. With this kit, you can monitor your engine's performance in real-time, and make adjustments as needed to improve efficiency, power, and overall performance. In-stock now and ready for fast delivery. Order now and take control of your engine's performance with our professional gas engine rectangular EGT pyrometer gauge kit.
Need help making a selection? Use our EGT Probe Comparison Chart. For additional pricing and technical questions, contact us now to speak to an experienced application engineer.
Showing 1 - 2 of 2 results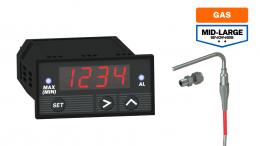 Top Seller!
Kit Includes:
• Fast Response Gas Racing EGT Probe
• Digital Pyrometer Gauge
• Adjustable Compression Fitting
(Recommended for fuel types: Gasoline, Natural gas, Nitrous Oxide, & Alcohols)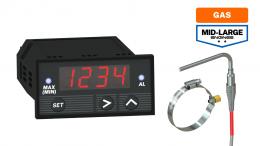 Kit Includes:
• Fast Response Gas Racing EGT Probe
• Digital Pyrometer Gauge
• Adjustable Muffler Clamp Fitting
(Recommended for fuel types: Gasoline, Natural gas, Nitrous Oxide, & Alcohols)